World 24 Hour Mountain Bike Championships
I'd dot watched the World 24-hour Mountain Bike Championships for years, never imagining I'd be able to do it. Buoyed by a successful first 24-hour event in Kielder Forest in October 2021, I made the leap and entered 24 hours of Finale Ligure, the legendary 24-hour event in Italy's mountain bike mecca, where the cliffs fall into the sea. An event that brings thousands of riders from all over the World together for what must be the toughest ultra-cycling race out there.
The hardest part, getting to the start line
The logistics and planning behind a 24-hour race take months, never mind the training (which luckily, I enjoy), helped by former Olympian, Oli Beckingsale, who gets the best out of me. A world championship was a huge step up though, particularly with the logistics of racing in another country. Simply getting the baseline kit and equipment there would be challenging with flight weight limitations. I hoped compromises and choices made about kit, equipment and nutrition wouldn't come back to bite me during the race. Then there's the Italian factor; in my experience things tend to be different to how they are done in the UK. 24 hours of Finale had been described to me by previous participants as 'chaotic'. If the race was anything like the entry process, I'd need to not get stressed out in the run up to the race.
I have to say upfront, I wouldn't have made it to the start line without the support of Jane Ward, my brother Eugene, BW Cycling, Mountain Fuel and Andy Howett, who took my spare bike and bits I couldn't do without, to Finale in his van for me. Top man! There was also a wonderfully experienced group from the UK, who were so giving of hints, tips and support on a WhatsApp group.
I was in good shape. I'd built a strong foundation through some good ultra-challenges in the past two years. The most recent being a 600km + 10,000m, self-planned and supported, Dragons Back Ride hitting all the best known hills in Wales in 28 hours back in May. This qualified as an Everesting Roam in their Hall of Fame. I'd also broken the World record for the most elevation in 48 hours in September 2020 also. However, I was carrying a ligament strain on top of my right hip, just above where I'd lost my right glute max in a road traffic accident. I'd hoped this injury would be gone, but I carried it into the race and it was affecting me mentally too.
The team
Originally, I signed up thinking that I'd have Team JMC who I ride for, support me. When this fell through, my eldest brother, Eugene (aka Nodgy) stepped in like David Firclough, the super-sub. Without someone in the pits supporting, being competitive is hard, as more than any other sport, 24 hour mountain biking is a team effort. In fact, I'd go so far as to say that the just riding is easier than is riding the bike keeping an exhausted, deranged, pre-madonna moving. Cheers Euge!
To complete a 24-hour race, hundreds of small and a few big decisions need to go your way. Reading that UK airports were a mess leading up to my flight to Milan, I changed my flight to get out a couple of days early and worked from Bergamo two days before the race. This was a great decision, as it meant I was rested heading into the race. Not sleeping the night before isn't an issue, it's the night before the night before that is said to be the one that counts. Getting out to Italy earlier also gave me a wonderful opportunity to meet up with my brother, Evan in Italy, which I'd do again after the race. Hanging out with my two brothers, who I'd not seen in a few years due to Covid-19, would make this trip truly memorable, regardless how the race went.
Ambition, let's get it out there
As recent Giro d'Italia winner Jai Hindley put it, 'I'm not here to put socks on a centipede'. After all the effort and commitment from others, especially my family, I wasn't in Finale Ligure to mess around either. My heart was set on winning my age group and going top 10 overall. I had no way, apart from what others told me, of knowing if this was realistic.
The build up
I wish the build-up to a 24 hour would be how people imagine it, where the racer arrives chilled and ready to race. It's never like that, there's always loads to do up to the start. Eugene did a sterling job at shielding me from this, which helped conserve my energy. When we arrived in Finale Ligure after traffic delays from Milan, it was great to finally meet up with the UK folks after months of messages. I collected my second bike and kit from Andy Howett, who I'm forever grateful to. What an absolute legend and gent! I registered in the Mania event village, which was huge with a giant stage, restaurants, and services. With the race start at 11am on Friday, I finally got a chance to ride the course late Thursday evening.
What a location
Firstly, the location is like Whistler by the sea, harbouring some of the best trails in Europe. Uniquely, it's where the trails end at the sea. On the recce lap I discovered that my tyres only touched uneven rocks on descents. It would be a rough and rocky ride with large rocks strewn all over. There's no graduated approach I thought, you are either all in, or you are out. Concentration would be needed throughout to stay mechanical and injury free. Then there's the views, as you ride along the Mediterranean coast, over sapphire blue waters overlooking beautiful harbours and inlets. No matter how tough it got, and it did, there was the reward of this mesmerising view every lap.
In the late evening, after erecting a gazebo, Euge and I made a quick dash to the last supermarket open, before making our way to the accommodation to meet the owner later than arranged. Then it was a quick dinner, bed and up early the next morning to do the final set up. Inevitably, I didn't sleep with excitement.
Morning of the race
We arrived at the course at 8am with rider briefing at 9am and race start at 11am. Cars were parked everywhere. It was chaotic and electric. Our pit was far from the road, so there was lots of lugging yet to be done, but we were focused and got set up on time. At 10am, I placed my bike in the pit area in preparation for the legendary Le Mans running start of 400 meters. In typical Italian style, the run wasn't straightforward taking us around the stage and across rocky ground before back to grab your bike and make off.
Then it was time to line up at 10:40am, with temperatures already at 28 degrees making riders take shelter until the last minute. It was going to be hot, hot, hot out there, which worried me as I've never been good in the heat. I'm Irish after all. I'd done acclimatisation training in the weeks leading up to Finale, where I'd put on winter cycling kit, turn on a heater in my garage and cycle on my turbo to teach my body to sweat. I think this paid off in the race.
We're off. We're not.
I completed the Le Mans start at the head of the field. I was feeling good and having fun but was becoming increasingly aware of the heat on some parts of the trail with the sun on my back. I completed the first lap and surprised Euge with how quickly.
It was so good to finally be riding. I had the opportunity to ride a stretch of coast with the mighty Max Suttie, former UK 24-hour champ, who'd had a nightmare getting to Finale when a driver in France drove into him and Rich Long. They were very lucky to walk away, so it was so good to see Max and Rich make the start line.
All was going well until halfway round the third lap, when the front wheel pinged over another rock, my stomach sank and I knew I was in trouble. I could see that there was still some air left in the tyre, so I tried using a CO2 canister to reinflate it, but the short valve on the wheel meant that the compressed air from the canister didn't go in. This was lesson one, make sure values are long enough. I pumped the tyre with a micro pump and was off again. I had to decide, get off and put in an inner tube, or nurse the bike around and replace the whole wheel with a spare. I decided to go on as there was still some air left in the tyre. The second half of the course was mostly descending, which was faster, but not on a deflated front wheel. I nursed it gently down the descents until I came to someone's pit, where I grabbed a track pump, popped in more air and headed for my pit. I was aware I was being passed by many riders. Reaching the pit, I quickly swapped wheels and left the mess for Euge to sort out. I knew Euge would have to get help, as he'd never even been to a mountain bike race, never mind say replaced a tubeless tyre. Puncturing early in a race is hard. Had it been later, I'd have built up a buffer. I'd plummeted from top 10 to 46th but was still going.
I'm melting
By 3pm, temperatures on parts of the course were hitting 37 degrees. I was downing 750ml of fluids per hour, loading up on Mountain fuel electrolytes, pouring water on myself and strapping ice packs to my back. Even with all this, I was melting. It was like someone had just drained my battery. My cycling superpower, climbing was gone. Eugene was doing all he could to cool me down, but we were losing time by stopping more than planned. Ideally, I'd have been drinking 1 litre per hour, but on a full suspension bike, I couldn't carry a second bottle. I thought about placing a bottle in my jersey pocket, but bananas were not staying in there on the descents. This wall of heat and humidity would prove the ultimate performance limiter. This wouldn't be my best. Instead, it would be the best in the conditions. The next 8 hours were just about surviving until sunset. It wasn't disastrous though, as I was still picking my way through the field, so we were doing something right.
Finally, sunset arrives
I wish I could say I enjoyed the beautiful sunset. If I'm honest, I couldn't see it from my pain cave and stream of sweat covering my eyes. I just wanted to feel like I always do on a bike, full of energy. When the sun did finally go down, the temperatures dropped slowly, and Eugene had me in good shape to capitalise. From 8pm to 12 midnight, we put in 4 hours of fast laps, comparable to my first laps. This put us back in the top 35. Then, the second puncture came, this time to the rear wheel. Shite I thought. Same as before, I nursed the bike to the pits, replaced the wheel and was off again putting in consistently good laps. It was around this time, around 11pm, 12 hours after the start, that I first had a wee, which just shows how dehydrated I'd become.
Electric support
I've never been to a better supported event. It was electric all around the course with fan from all over the world. Then there was the notorious 'Toboga Stadium', a series of high berms, where hundreds of the most fanatical fans lined the top. A DJ pumped out bad, bad Euro Pop with a huge lighting set up. It was insane with riders applauded for riding higher and higher, and booed when taking the lower line. I'd never experienced anything like it and loved riding high each time. I felt like I was in the San Siro or some other football stadium, such was the atmosphere. If you ever get a chance to go to WEMBO in Finale Ligure, never mind the effort, just do it, you won't regret it. As night went on, a few fans further put rider skills to the test by wondering onto the course pissed. Even in the darkest hours, there were chants of Allez, Allez and Vie, Vie to keep you going! Then periodically in the night I'd see a rear light on a stationary bike in the woods. Next to the bike was the body of some poor rider too drained to make it back to the pit without a little nap.
I did the best riding of the race through the night. This put me into the top 30th overall. I've always revelled riding through a sunrise and feeling the blue rays revitalise, but on this occasion, I was dreading the rise in temperatures. I was still feeling drained, but I knew I had to dig deep and push to the line. I owed this to Eugene, Jane, Amy, Es and myself. It's what my teammates at JMC would expect. I tried pushing harder on the hills, but found I was wasted at the top of each one. I thought, this is what hills must feel like to non-climbers, it sucked.
As morning came and with it the heat, I seemed to be handling it better on the second day. I settled into being steady across the course, rather than strong where it was tough, like the hills. Then, the final insult to my injury, with 3 hours to go, the rear mech went up into the cassette on a hill, where another rider stopped short, and I had to accelerate hard past them. It took all my effort to get the rear mech out of the cassette. I didn't know if it was damaged, but as I checked found the rear axle was loose, which would have caused the issue. I tightened it up and was off, but I could no longer get it into the two smallest gears. Riding a few laps like this, I decided to pit, change bike for the spare and again leave it for Eugene to fix somehow.
So, I've already had two punctures and thrashed a rear mech, like a pro, but a lap later, it's magically fixed even though Euge has no prior mechanical bike skills. If you do Finale Ligure from the UK, then you'll be part of an extraordinary wider team, who's help, advice and support is invaluable. During the race, without the intervention of Peter Nadin and his wife Tania, I wouldn't have finished. Peter repaired the two punctures, while teaching Eugene a thing or two. He freely passed on nuggets of insight, like when I stopped to get my tyres checked to avoid puncturing again as I was out of tyres, he said 'you are not losing, you are gaining time here, so relax'. I'm not just saying this, but two nicer people you will not meet. Forever grateful!
Meanwhile, with the heat rising sharply back up to the high twenties, I pushed all I could to the line. In this final push, I jumped from 21st to 17th overall. I finished exhausted, dehydrated but elated. Euge was there and we were both overjoyed. We'd done it! We met up with the other riders from the UK, swapped stories and I got to have a Coke and Taytos, result!
In the end, the mighty Cory Wallace from Canada would do the most laps and take the win for the 4th consecutive year, pushed close by Marcello Ugazio the Italian local. Chelsey Magness from the USA would top the women's followed by Gaia Ravaioli from Italy. Top Brit would be Rich Long in 9th, with me up next in 17th overall. Ironically, this would have been good enough for top 10 in Elites. I felt I had salvaged something from the race finishing 2nd in category behind a strong winner Srecko Kriznic from Slovenia and no stranger to the WEMBO podium, who finished 12th overall.
While only having two in the top 20, we did manage to get a lot of us on podiums, with Chris Rudd (Team JMC), Andy Howett, Rich Long all taking spots in age cats. Full results here.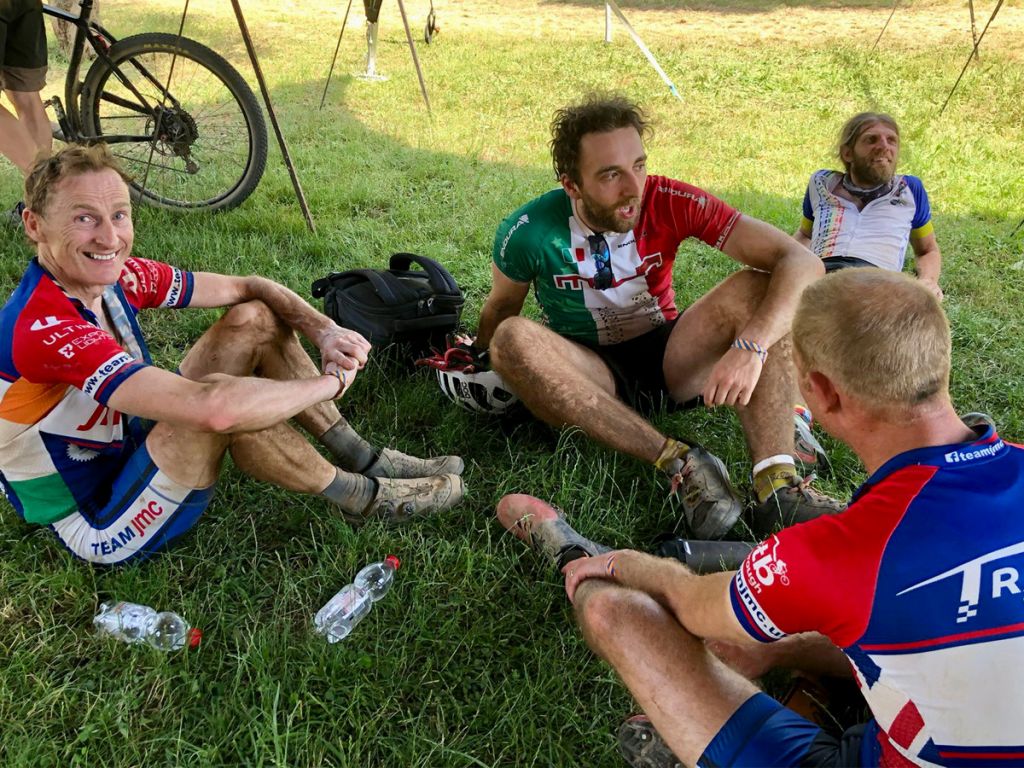 Conclusion
On a savage course, on the beautiful Italian Rivera, in extreme heat, with crazy support, 24 hours of Finale Ligure was chaotic, adrenaline filled and easily the best event I've ever been part of. You see, where else can you get trails, sea and all you'll need to continue a holiday after, including great coffee and gelato? I'd return without hesitation. It was a privilege just to be part of this spectacle, never mind completing and even sneak onto a podium. The atmosphere was more like a music concert, not a World champs bike race. If you get a chance to do it, push through the effort and get to the start line, you'll never regret it.
I'd been warned about not getting stressed by the Italian chaos. By the end, having also spent time in Milan after the race, we'd learned to embrace the chaos and just go with it. I think Italy makes more sense and is much more fun that way. This is a lesson for anyone thinking of doing 24 hours of Finale Ligure.
I'm hugely proud of my effort in the conditions, even if I didn't get to show my best. I am even prouder of my pit crew, Eugene. His calmness, responsiveness, stamina, and care were amazing! Remember, this was Euge's first time at a mountain bike race, never mind pit crew. A big shout out also to Peter Nadin, who's mechanical expertise and advice kept me in the game as I shredded tyres and the bike 😉
Learnings
As this was my second 24 hour, I'm still a novice. My planning and logistics were solid. With 50% of ultra-endurance events ending in stomach issues, my Mountain Fuel nutrition plan kept my stomach in good condition throughout. There were 100 other little decisions that were right, like I was trialling a new electrolyte powder for Rupert at Mountain Fuel. Little did we know how good a trial it would be in 37 degrees. I was able to mix the electrolyte with some energy drink in a bottle and it worked a treat. I'm looking forward to this product being launched, as something kept this Irishman going in heat you wouldn't send a dog out in. Thank you, Rupert, for the advice and great products!
There was one big mistake, which cost me 30 minutes overall, I think. I didn't bring a track pump. Neither did Chris Rudd, my Team JMC mate, who shared our pit. We just figured everyone would and we'd space saving. This meant not having one to hand, but also relying on someone else's pump having an accurate gauge, which I now know you can't. I thought I'd put 22dpi in my tyres. The true value was less when Peter measured it. This I think lead to the two punctures. Next time, I'll be self-sufficient, but also carry a pressure gauge, one of which Peter kindly gave me after the race. Still annoyed at myself for this.
My plan for the heat was to go from 500ml to 750ml. That was it really, as I was expecting maybe highs of 27 degree. The temperatures we experienced was an anomaly. The days before and after were nothing like this. When the heat hit, I should have got on the 750ml earlier and even planned a way to get a litre per hour on board, but I hadn't. If I was back again, I would have a backpack and bladder to hand, just in case.
I had too much stopping time, especially with dehydration, punctures, mechanicals, me being a novice and Euge's first time in the pits supporting. My pace was the same as the winner of my category, which means he won by stopping less and having less issues than me. Matt Jones, don't even say it mate 😉
Next up
I'm part of a group record attempt to claim the most riders completing an Everesting in one event. The current record stands at 54 riders set in Norway. The attempt will take place on Peaslows hill on the 17th of July. I've been helping entrants with advice and tips ahead of the attempt form my Everesting experience. Looking forward to getting as many people over the line as possible.
Then, to help keep my Canadian residency, I am spending time with family in Canmore, Alberta in August. While we are there, the Canadian Rockies 24 Hour returns to Canmore's Nordic Centre with its world class trails. I knew I had to enter when even my wife Jane was saying I should. I'm unsure of the logistics and will be relying on others for support. If I can, I'd like to be competitive, but will see how it goes.
Finally, in October I'm looking to compete in the British 24-hour mountain bike championship, in Kielder Forest, where I did my first 24 hour a year earlier.
Anyone who does 24-hour events would tell you that 3 in one year is more than enough, so I'll roll into Autumn by completing an Everesting run, then rest.
The stats
Laps: 25
KMs: 300
Vertical: 7,800m
Calories: 11,500
Highest temp 37, average 26, low 20
Punctures: 2
Mechanicals: 1
1st (and only) Irish
2nd form UK (behind an excelling performance from Rich Long)
New friends: lots
Thanks
Thanks first to WEMBO, the organisers of the World 24 Hour Mountain Bike Champs and to 24 hours of Finale Ligure for hosting the event. Chapeau both, top job! I'm hugely proud of my effort in the conditions, even if I didn't get to show my best. I simply couldn't have done it with my pit crew, Eugene. Thanks bro!
I also need to thank Chuck, Andy and the team at BW Cycling, who kept my bikes rolling in tip-top shape. Rupert at Mountain Fuel whose nutrition I totally rely on as it never lets me down. Lighting the way, there's Mark at Exposure Lights. And finally, there's Ryan at Ryan Builds Wheels, who's been there over the past years.
Last thanks to the UK & Ireland 2022 Finale Ligure group, who've helped throughout: Andy Howett, Rich Long, Peter & Tania Nadin, Ade, Maurizio, Chris, Max and Rich. Many of which are cyclist that I really look up to having podiumed at WEMBO before and holding many national jerseys been them. Thank you all!
Until next time, onwards and upwards!
Follow me