"Somewhere over the rainbow dreams really do come true"
No, I didn't Podium but even better there was no 'Hike a Bike'
The river was too deep, the valley was low and mountains were high (there's a song in there). Frazer and Spooks who are the captains of the ship at No Fuss Events were in a dilemma. The day before the Tour de Ben Nevis the amount of rainfall 12 hours before the event was beyond ridiculous, therefore a decision for safety reasons had to be made to re-route the course.
Keith and Angus had mentioned it to me in the morning that there would not be a 'hike a bike' I smiled briefly but then thought that's what makes the event as tough as nails. The morning banter on the start line with Keith, Mike, Angus and Rob were typically British i.e. discussions about the amount of rain (we are so good at talking about the weather) and how to try and get round as quickly as possible to avoid getting wetter than we already were.
Angus had, unfortunately, left his front skewer in Edinburgh so he would have to go to the pub much earlier than normal.
I wished Rob the best of luck, he was probably looking forward to it a bit more than before as the route would be slightly shorter and there would be a little less climbing.
Bagpipes led the riders out to the end of the high street before turning left up a steep tarmac climb which would be a struggle on the fatbike.
I looked to be the only fatbike rider until I saw another rider on a cube running the not so impressive Jumbo Jim tyres.
I decided to change mine having had plenty of issues with them so I was now running veetireco.co.uk The Bulldozer on the front and Kenda Juggernaut on the rear.
As we approached the first off road climb 5 miles into the race the fatbike came into its own climbing the best it has ever done over loose and slippery rock.
The Bulldozer was gripping onto everything and not at any point did I feel out of control. I love this event. It is true mountain biking in the beautiful highlands of Scotland and even on a day where the heavens had opened and there was more water on the trails than in the loch it was still magical.
I made it to the timed descent which I always find a bit annoying as you don't want to hit the drainage channel too hard and puncture or too soft that you get stuck and come off. I made it down with no drama so was chuffed with that. The climb to the feed station is a tarmac drag but worth if for the cheesy cheddars and a top up of the water bottle.
I was waiting for it to start raining as the forecast looked awful however no rain appeared instead we had trails like rivers as the water was running down from the hills onto the West Highland Way.
I was on my own now, not sure where Rob was, so I took a slow pace hoping he would catch me up along the stretch that runs along Loch Elide Mor where we would do a u-turn to go back the same way. Before the u-turn I spotted Big Bad Badura heading in the opposite direction so I slowed (took some photos) hoping he would catch me up but that wasn't to be the case.
Cycling back the way you came felt weird we would normally cross the river and start the 'hike a bike' over the Mamore hills and to the bothy but instead we turned back and took a right past Mamore estate/BBQ stop which I totally missed and rode straight passed it.
I was riding passed the first timed descent again and climbing well. Every few meters we were riding through gallons of water that were either streams or enormous puddles.
I have never ridden through so much water in my life, but the fatbike was loving it and so was I.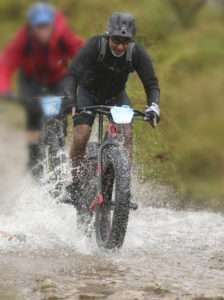 Apparently there was a 6 hour window of dry weather between 10am-4pm I had been informed after the race by George Maitland (who podium) a fellow rider and a local. He was spot on. The weather Gods had been a little kind to us.
The route then made its way onto the West Highland Way which was tough and involved some carrying, pushing, steps and mud which would slow most riders and I took some time to re-load with an energy gel and a bar. I wondered where Rob was but found out later he was stuffing his face with a burger at the BBQ stop.
I made it to the fire-road and started to descend before a marshal flagged me down and let me know that I was only 3 miles from the finish line and it was all downhill.
I kind of smiled thinking I am well soaked and hungry it's just after 3pm I've had 5 hours on the saddle and enjoyed my day out on what was the best we could have done on an amended route.
I made it to the finish line with a big 'skid for kids' feeling fine and headed to the Ben Nevis distillery to hand in my timing chip.
I waited a while for Rob but no sign of him so thought I'd head back to the B&B and get showered.
Rob finally arrived at the B&B about 5.30pm broke but not broken he had found it tough and there were some dark moments but he had kept going and made it round. He will now be training even harder for next year so he can enjoy it more.
It was great to see Keith Forsythe win the race and Mike Hancock was runner up. Mike will be racing The Yak Attack in November a 10 day stage race, approximately 500km, 15000m of overall altitude gain in a temperature range of +30c to -20c so I wish him luck on that one.
A quick mention to George Maitland a local chap who came third in his category and was a worthy podium rider.
So even though it wasn't quite the Tour de Ben Nevis it was still a tough day out with 35 miles of beautiful scenery 5,000 feet of tough technical climbing which was worth all the effort.
A big thanks to the No Fuss team, Frazer, Spooks and the marshals who had done a superb job and I'm really looking forward to it all again next year.
So after 9 epic events done on the fatbike from March to September that's me done for the year and now time to chill, reflect and work out next years plan of action.
Every single event has been superb and the obvious highlight and game changer for me was the 4 day stage race in Sri Lanka proving that anything is possible and I was the first person ever to complete it on a rigid 26inch fatbike. So that's one record I do hold.
My 9 events were all on a fatbike (*except) www.alpkit.com/sonder/sonder-vir-fortis
CliffCross (March)
DirtyReiver200 (April)
SelkirkMTB * (May)
Rumble In The Jungle Sri Lanka (June)
10 Under The Ben (June)
Manx100 (July)
Yorkshire True Grit (Sept)
Breamish Behemoth (Sept)
Tour De Ben not Nevis (Sept)
My favourite one day event was the Breamish Behemoth #checkmyblog
My least favourite was manx100 #checkmyblog for obvious reasons.
Keep on riding love to all.