– by Jason Miles
Worth noting before I start to tell you about the Rumble in the Jungle stage race in Sri Lanka that I'm writing a reasonably-long article about the race for Singletrack Magazine. If you think that this blog entry is a bit light on detail, that's on purpose. I don't want to ruin the surprise and if you want to know more, you'll just have to buy the mag…..
---
I'm a lucky bugger sometimes. I was asked a few months ago if I'd mind awfully popping over to Sri Lanka to take part in a stage race, make some notes and tell the world all about it in a magazine. Obviously an opportunity to 'pop over' to a beautiful and (to me) mysterious island in the Indian Ocean, as a guest of the race organiser and their main sponsor (who happen to be an airline) doesn't happen every day so I think I considered it for all of 3 nanoseconds. The conversation also took place only days after I realised that I wouldn't be going to the Tour Divide this year, so that was handy too.
The race comprised 4 stages. Each stage wound its way through tea plantations, dense jungle, mountaintop villages, exposed hillsides and manic, traffic-filled roads. Each stage was very strenuous and we seemed to spend all morning climbing – add to that the incredibly hot and quite often humid weather, the amazing curry (for every meal if you, like me, were daft enough) and incredibly efficient organisation and you've got everything you need for a truly memorable week's racing. Totally immersed in the race, all the rider needs to do is race, eat and sleep. Brilliant.
My race went really well – I wasn't expecting to finish 3rd (I was 5th really but vets get a time reduction to allow a single category) and I was pleased that I was able to complete my first-ever stage race without making a complete balls of things.
Everyone I met – racers, organisers, marshals, drivers, photographers – were all super-friendly and at times it felt like a proper holiday with like-minded folk and by the end of the week I felt like I'd known some of them for years. Friends who I'll keep in touch with and who I hope to meet again.
It wasn't all plain-sailing – a big crash on stage 2 almost broke my sternum and day 1 couldn't end soon enough with a couple of annoying and time-wasting mechanicals and a tyre that wouldn't stay inflated for longer than 30 minutes. I got a bit 'ill' on day 3 and spent most of the night sat on the loo but I soon discovered that a 15 kilometre climb to over 2000 metres is just the ticket for curing a runny bottom….
Some highlights for me were the third stage where I rode with Albert – he was placed only 4 or 5 minutes behind me but by that point we were a pair of weary veterans, happy to call a truce and just enjoy the ride, talk about our lives on opposite sides of the world and just enjoy the scenery and amazing Sri Lankan mountain biking ahead of us.
Watching San ride his fat bike every day, always positive and cheerful and almost transcending the race completely by experiencing more of the 'real' Sri Lanka than any of us – stopping and talking to people, letting them have a go on his bike….fantastic stuff.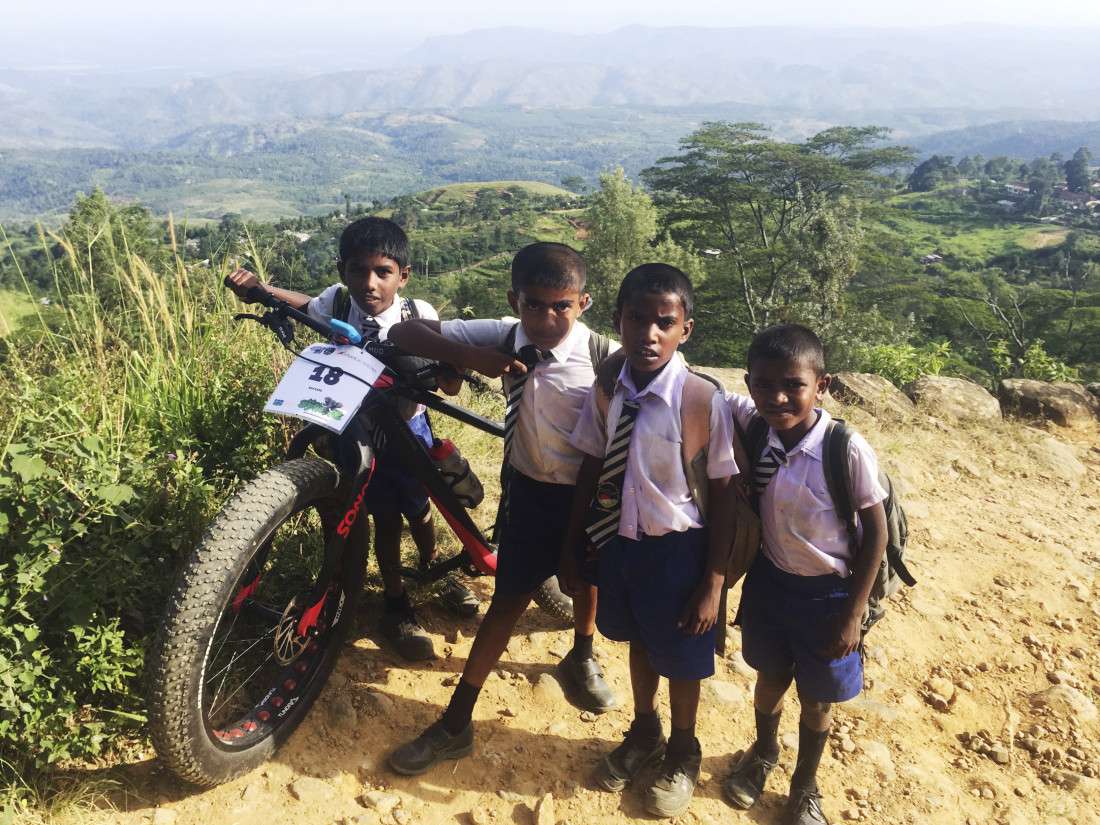 The old train that transported everyone back to the start. Still in daily use by the good people of Sri Lanka, it wound its way back to Colombo at an average speed of 25Kph, while the incredible scenery passed by the window.
And the curry. I loved all the curry.
Thanks to everyone that made all of this wonderful experience possible. Phil and Kate for organising it, LSR for getting us, our bags and our bikes into the right place and for keeping us all safe, Sri Lankan Holidays and Sri Lankan Airlines for looking after me and for the most luxurious and comfortable flights I've ever had, Chipps and Singletrack Mag for asking me to cover the race in the first place and to the people of Sri Lanka who never seemed to stop smiling.
You can see the daily 'race reports' I sent by carrier pigeon during the race here, and if you're interested in taking part next year, sign up here (and I might see you there).